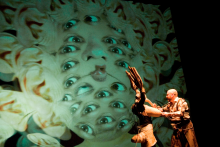 Marcel·lí is internationally recognised by his mechatronics performances and his robotic installations. His works has been showed in multiple festivals, galleries, museums and theatres all over the world, such as Villete in Paris, I.C.A. in London, FILE in Sao Paulo, DAF in Tokyo, DOM Cultural Center in Moscow, DEAF in Rotterdam, Performing Arts Seoul (Korea), among others.
During his career, which is extended over 30 years, Marcel·lí has developed a particular universe that brings together his interests in comics, Art Brut, and the 60's vanguards including popular traditions. This cosmos is completed with his interest in certain elements of human condition such as feeding, sex or death.
Antúnez's work has the human body as the main element and it goes from installation art to performance. He has been working with digital technologies since more than two decades ago. During this time the artist has developed a procedure which named after the neologism sistematurgia. The key of this concept is user participation. Sistematurgia, literally meaning dramaturgy of informatic systems, has three areas: interface, information management and medium.
Marcel·lí has been awarded, among others, with the following distinctions and awards: first prize in Noveaux Cinéma/Noveaux Médias Montreal 1999; Premio Max nuevos lenguajes escénicos, España 2001; Honorary Mention in the Prix Ars Electronica 2003, Premi Ciutat Barcelona in Multimedia Category 2003, Premi Ciutat de Barcelona in the category of Visual Arts 2014 and the Art Excellence Award 2015 at the Japan Media Arts Festival.
Projects by Researcher @ Hangar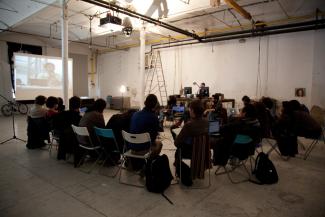 Lab oriented to generate an experimental space for the use and development of new telepresence technologies. It works by opening different stations/spaces to intervene and communicate remotely through testing tools which allow an interactive communication.