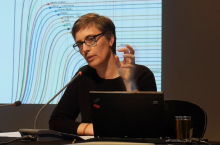 Femke Snelting is an artist and designer developing projects at the intersection of design, feminism and Free Software. She is a member of Constant, a non-profit, artist-run organisation based in Brussels. The artistic practice of Constant is inspired by the intersecting themes of collaborative work, promiscuous networks, data exchange, algorithmic culture, experimental archives, forms of (re)presentation, copyright alternatives, (cyber)feminism and their presences in everyday life. Constant generates performative publishing, curatorial processes, poetic software, experimental research and educational experiments in local and international contexts. With Renée Turner and Riek Sijbring she formed De Geuzen (a foundation for multi-visual research), she co-initiated the design-research team Open Source Publishing (OSP) and the Libre Graphics Research Unit to investigate the way digital tools and creative practice might co-construct each other.
With delegates Jara Rocha, Seda Guerses and Miriyam Aouragh she takes part in the Darmstadt Delegation, assigned to explore techno-political and socio-emotional relationships between activist and technological practice. Since 2013 she is involved in Mondotheque, a collaborative project that grew out of a shared concern with the mesh of institutional histories, local politics and corporate interests that coagulate around the heritage of Paul Otlet. She was an Art, Science and Business fellow at Akademie Schloss Solitude in 2015 and currently teaches at The Piet Zwart Institute (Experimental Publishing, Rotterdam) and a.pass (Advanced Performance and Scenography Studies, Brussels).
Projects by Researcher @ Hangar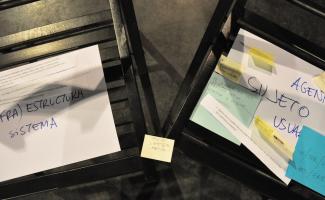 The interface Manifiesto is a collective research and writing project aiming to understand the interfaces such as central cultural phenomena by dialogue and interdisciplinary praxis.The outcome has been a manifest which highlights the interface's ideological and political aspects.