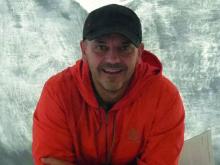 Bachelor in Philosophy and Literature, 1989 (UAM). PhD Cum Laude, European mention, 2002, Fine Arts Faculty (UB): La Robótica como Experimentación Artística. Una Aproximación Histórica a la Evolución de las Máquinas Autómatas desde el Prisma de la Estética. Currently he teaches about interfaces, interactive systems and audiovisuals at the Fine Arts Faculty (UB).
He has participated in numerous nationals and internationals art shows (selection): GIF party. TATE Britain (London, 2014), FASE 5 (Buenos Aires, 2013), Festival VG Vídeo Guerrilla (Sao Paulo, 2012), I Programa Internacional de Vídeo Arte 2013. MECA (Almeria; Tessy-sur-Vire, 2012), ((.mOv)) Vídeoarte en Movimiento (Lima, 2012), FILE | Electronic Language International Festival (Sao Paulo, 2011; Río de Janeiro 2006), Sónar. Festival Internacional de Música y Arte Multimedia (Barcelona, 2010), Les Rencontres Internationales (París, 2008; Madrid, 2008), Banquete. Nodos y Redes. (ZKM - Karlsruhe 2009; LaBoral - Gijón, 2008), Sintopía(s). De la Relación entre Arte, Ciencia y Tecnología (Instituto Cervantes - New York, 2008; Pekín, 2007), Resplandores (Buenos Aires, 2007).
He has been awarded with several prizes and scholarships (a selection): III Essay Award New Media Art MADATAC (2015); Laboratorio de Investigación en Prácticas Artísticas Contemporáneas. Residencia en Buenos Aires (2013); NCCA National Centre Contemporary Arts. San Petersburg Residency ( 2013), Propuestas'12 VEGAP (2012), Beques per a la recerca i la creació OSIC (2012), CONCA. Arts Visuals (2011).
Projects by Researcher @ Hangar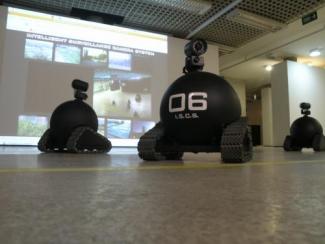 Interactive installation composed by different robots which incorporate surveillance cameras on a mobile platform. The robots are equipped with global positioning systems based on position sensing by an artificial vision software, they interact jointly and synchronously with the visitors.