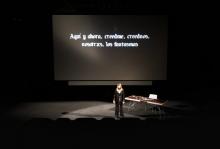 Núria Gómez Gabriel is a researcher in the field of communication and contemporary visual culture. Her practice crosses critical pedagogies, writing and curatorship.
In general terms, her interests focus on observing how power imaginaries are configured and the relationship they have with the ways in which technology materializes memory. More specifically, in 2016 she began an investigation into Gothic materialism in current artistic, literary and philosophical practices. This research attempts to analyze and situate the psychological and visual tropes of horror as liminal figures rooted in a desire: to open up speculative narratives and symbolic spaces that reformulate the ruins of geopolitical pasts ungraspable in the present, and that propose alternatives to the present time in which we have been trapped.
She works as a university professor in the Degree in Arts and Design of the Autonomous University of Barcelona (Escola Massana) and collaborates as a researcher in the Colectivo de Investigación Estética de los Medios Audiovisuales of the Universitat Pompeu Fabra of Barcelona, where she has deposited her doctoral thesis Espectropolíticas. Imagen y hauntología en las prácticas artísticas contemporáneas (2016-2020). Co-author of the book Love Me, Tinder (Temas de hoy, 2019). She publishes in platforms such as CCCBLAB Investigación e Innovación en Cultura, A*Desk Critical Thinking or TEATRON; and, in academic journals such as Teknocultura. Revista de Cultura Digital y Movimientos Sociales (Universidad Complutense Madrid) or Contratextos (Universidad de Lima). She was given the residency of the Programa de Apoyo a la Investigación of the Centro de Estudios y Documentación del Museo de Arte Contemporáneo de Barcelona in 2018-2019. Her projects have been shown in contexts such as the V Seminario Internacional de Cine de TABAKALERA (San Sebastian, 2020), FEMTEK Prácticas Artísticas Contemporáneas. Feminismos y tecnología (Bilbao, 2019), Festival de Literatura Amplificada Kosmopolis of the CCCB (Barcelona, 2019), Festival Internacional de Videoarte LOOP (Barcelona, 2016-2018), and in Las Jornadas de Estudio de la Imagen of the CA2M (Madrid, 2016), among others.
Projects by Researcher @ Hangar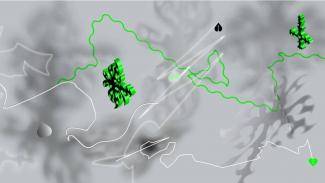 Throughout the months of January-March 2021, Núria Gómez Gabriel has carried out her curatorial research project Iban oscuro por entre las sombras within the framework of the Encura V grant, organized by Hangar, La Casa Encendida and hablarenarte. A collective exploration device that has been deployed through three days of nightly coexistence with artists Ángela Millano and Blanca G. Terán (aka dj_Sônia), Raquel G.